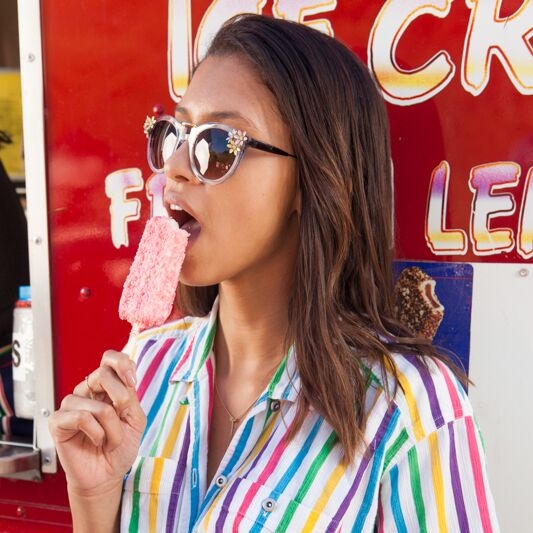 I scream, you scream, we all scream:
Amazing ice cream cones in NYC you need to try this summer!
Lady loves, summer is officially here, and that means a number of excellent things: sunnies are out in force, we can dine al-fresco, and ice cream season is upon us.
Instagram-worthy food has never been so popular, and gone are the days of a classic vanilla ice cream cone – if it doesn't get me at least 150 likes – why would I even bother eating it, right?
With that in mind, I decided to stalk the ice cream parlors of New York City, in search of the most delicious (and photogenic) frozen treats that the City has to offer.
1. Black Ice Cream from Morgenstern's Finest Ice Cream (Nolita)
My inner goth is honestly SCREAMING right now. This deathly vanilla ice cream is everything right now, and suddenly I kind of wish I was emo, and listening to My Chemical Romance. Make mine a double (scoop) please.
2. Cereal Milk Soft Serve from Milk Bar (Upper West Side)
Hands up if you LOVE cereal... *aggressively throws arms in the air!* Milk Bar offers a soft serve ice cream that tastes just like cereal milk, and oh my GOD, hook it to my actual veins, please.
3. Purple Yam Soft Serve from Soft Swerve Ice Cream (LES)
Are you actually KIDDING me right now? Have you honestly ever seen a more beautiful ice cream in your entire life? Not only does look like a heavenly unicorn poop (in a nice way) – it tastes fucking delicious. You're welcome.
4. Red Velvet Scoops from Sundaes and Cones (East Village)
Sometimes, we just want to eat some cake, right? Well, when it is 96 degrees outside, cake is not always the soundest option, but what if I told you that you can combine cake with ice cream? Red velvet is our absolute FAVE!
5. Toasted Marshmallow Cone from Emack & Bolio's (UES)
S'more season may be behind us, but that doesn't mean we can't get our marshmallow on. So much toasty goodness – and sprinkles, because they give us life.
Meet the Babe behind the Blog
As HOC's resident Irish chick, I like to think of myself as exotic. A former New Yorker, turned general nomad (I will literally live anywhere), I love anything to do with style. My love affair with HOC began over a year ago, when I met a fiery red head in a bar, and it has been ongoing ever since. I love big sunglasses, glitter, rap music and anything coconut flavored. -Becca